Gala 2016 - ONE Thank You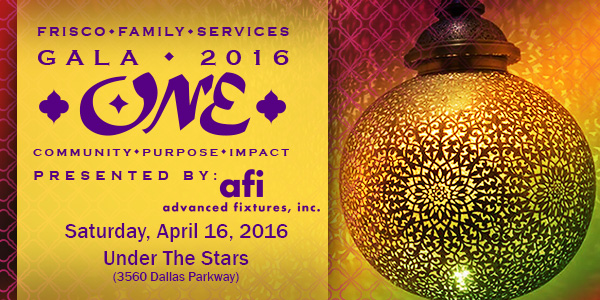 THANK YOU TO OUR VERY CARING SUPPORTERS OF FRISCO FAMILY SERVICES' GALA 2016 - ONE!
An evening "under the stars" was enjoyed by all, thanks to our Title Sponsor, Advanced Fixtures, Inc. (AFI), and the generosity of Conifer Health Solutions, who provided the awe-inspiring rooftop venue for Gala 2016 - ONE.  Our wonderful restaurant partners presented a multi-course dining experience while guests were serenaded by the Emerald City Band, providing the wonderful music of Louis Armstrong, Frank Sinatra and Aretha Franklin.
Our very entertaining Auctioneer, Jeff Copeland, created some energetic and competitive bidding for exceptional live auction items, which then led into the Fund-A-Need, focusing on the true purpose of the evening - ONE community, coming together for ONE purpose, having ONE big impact.
A sincere thank you to all who made this year's gala a tremendouse success, including our wonderful sponsors and Gala 2016 - ONE Chair, Molly Bullington!  (To view Gala 2016 - ONE sponsors, click here.)   
To view photos from the event, visit Shutterfly here, or visit our Facebook.
Community Begins with CARING.  In our communities, families face hunger, homelessness, and have other urgent needs.  Because of your support and generosity, Frisco Family Services is able to keep our community strong.