Gala 2018 - ONE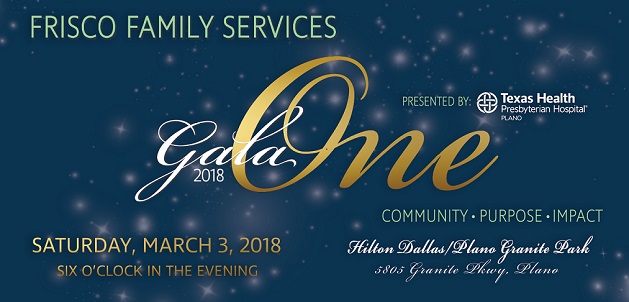 Frisco Family Services is pleased to announce it's 24th annual Gala ONE representing ONE community, coming together for ONE purpose, having ONE big impact. Gala 2018 - ONE will be held on Saturday, March 3, 2018, at the elegant Hilton Dallas/Plano Granite Park hotel. Our goal is to come together as ONE and help prevent hunger and homelessness in our community. 
The evening will include tantalizing tastings, presented by some of the area's finest dining establishments, as well as live music from the Emerald City All-Stars, voted best live band in Dallas. An incredible live and silent auction will present guests with the opportunity to take home one-of-a-kind items and bid on unique travel experiences. Gala 2018 - ONE will conclude with the announcement of the winner of our raffle prizes!
Gala 2018 - ONE directly supports the mission of Frisco Family Services, helping members of our communities who are facing hunger, homelessness and other urgent needs improve their quality of life and achieve self-sufficiency. Be a part of a COMMUNITY that CARES, and CHANGE LIVES today. Below you can see the many ways you can support this year's gala. We hope YOU will be a part of Gala 2018 - ONE! Together, we can make a difference!
Reserve a Table or Purchase Individual Seats:
Click here to purchase a table or reserve your individual seats at Gala 2018 - ONE!