Services Offered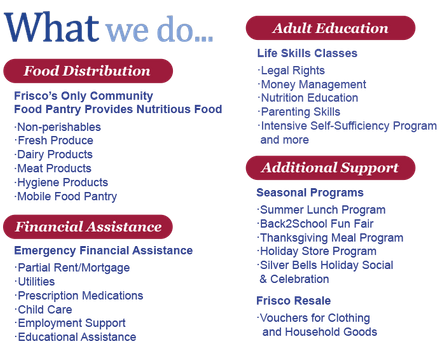 Frisco Family Services Food Pantry is client choice, where clients can shop in a grocery store-like setting for the food they know their families will eat, enabling them to avoid hunger while using their limited financial resources for other essential needs. In addition to nutritious food – including meat, dairy and organic produce from our community garden – hygiene and household products are also available. 
Emergency Financial Assistance helps families stay in their homes, keep utilities connected, purchase prescription medication, offset childcare expenses, and provides for other critical needs.
CHAMPS (Challenging Adult Minds for Personal Success) workshops are facilitated by local businesses and professional volunteers in the community who provide each client with the education, tools, training, and support necessary for self-sufficiency and success.
Frisco Resale is an upscale resale store that sells new and gently used furniture, household goods, clothing, shoes, accessories, books and toys at excellent prices. Proceeds are used to help fund the programs provided by Frisco Family Services. Resale vouchers are provided to qualified Frisco Family Services' clients to shop in the store.
---