Golf Sponsorship Opportunities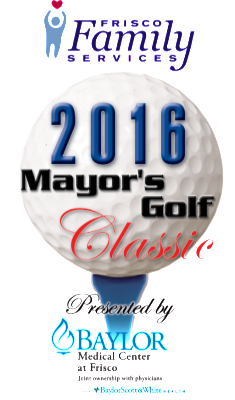 Benefits of Sponsorship
The privilege of playing on the exquisite yet challenging Country Club Course normally exclusive to members.
Your company or organization's name/logo included on pre-tournament  and event day promotional materials and advertising, as well as during the event.
Exposure to key decision-making audience including Mayor, City Officials and community businesses. 
Public demonstration of community support.
Tax-deductible charitable contribution to benefit Frisco Family Services and your own community.
Event day raffles, prizes, games, breakfast, lunch, beverages on course and much more!
Sponsorship Levels Available:
Eagle Sponsor $10,000
 
Diamond Sponsor $7,500
 
Platinum Sponsor $5,000
 
Gold Sponsor $2,500
 
Silver Sponsor $1,500
 
Bronze Sponsor $500
Underwriting Opportunities Available:
$5,000 Cart Sponsor:

Show off your business in style with your logo placed on 75 carts with a large decal on windshield at tournament.

$3,500 Lunch Sponsor:

Provide an appetizing lunch for the golfers post tournament. Your company logo will be prominently displayed at the lunch and on all tables.

$2,500 Beverage Sponsor:

Quench their thirst! Company Logo displayed at 5 beverage stations on the course.

$1,500 Raffle Sponsor:

Win! Win! Win! Company Logo printed on 500+ raffle tickets and all raffle promotional materials.

$1,500 Prize Sponsor:

Award the best! Company Logo printed on each prize awarded to winning teams and players.

$500 Bronze Sponsor:

$900 Team:

$250 Individual Player

Join us! We will match you with other players.
Click here to learn more about becoming a golf sponsor and to download the sponsor registration form.