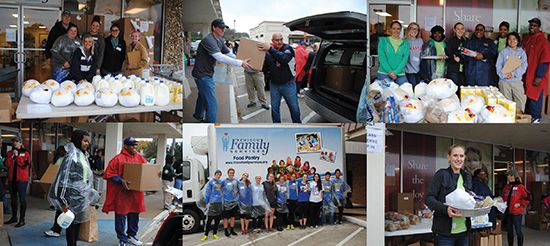 Thanks to generous donors, the families FFS serves were able to have a nutritious and joyous Thanksgiving this year. At our Thanksgiving Meal Program distribution on Nov. 22, close to 250 families received a complete Thanksgiving meal with a turkey, breakfast food items including milk, juice, and eggs, as well as a family board game or DVD to promote family time. We want to say THANK YOU to all of our donors and our many volunteers who donated their time on Saturday to distribute meals to our clients in crisis.
This program means much to our clients who are going through a crisis. Many of the families we serve would not be able to have a Thanksgiving meal without this program.
"This is actually a big surprise for me," Katherine, an FFS client said. "I am so thankful because my whole family is going to appreciate this in a different way. I used to be in a position where I was the one who gave help to people, but now I am in a position where I need help. We're all going to have happy smiles on our faces this Thanksgiving."
To see pictures of the distribution, click here.