Summer Community-Wide Food Drive
Have an immediate and lasting impACT on our local community this summer by participating in Frisco Family Services Community-wide Food Drive. Donate critical food pantry items directly to Frisco's only community Food Pantry.
July 20th | 10 a.m. - 3 p.m.
Frisco Family Services Food Pantry (9085 Dogwood St., Frisco)
Help FeedFrisco by ensuring our summer food drive is a success.
 
---
Why is Hunger a Challenge during Summer Months?
Often referred to as "hungry season", the summer months are especially difficult for families in crisis. Children on the free/reduced lunch program during the school year now require extra meals at home each day. The cost of keeping homes cool, along with gas, water, and other utilities continues to increase. When you're already unable to keep a stable household, any financial increase can make putting food on the table impossible.
The goal of our summer Community-wide Food Drive is to help ensure our local families in crisis don't go hungry – no matter what season.

---
You can make an even greater impACT by helping FeedFrisco together!
Spread the word to your family, friends, neighbors, and coworkers about this opportunity to prevent hunger. Collect donations in advance and make one big impACT the day of our event.

---
What should I donate?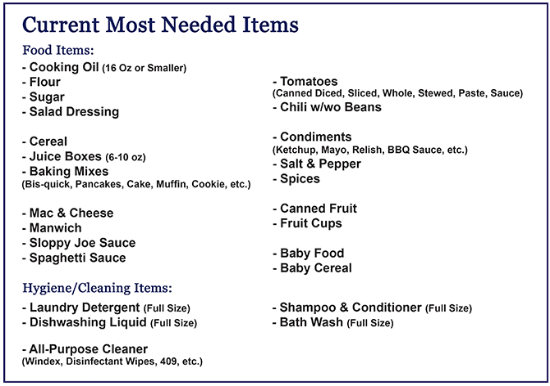 ---
Can't make it/drop off on Saturday, July 20th?
Notify us to arrange a different date/time to drop off by emailing ronny@friscocenter.org.
Make a financial contribution to purchase critical items here.