Watch this 5 minute video, where you will see...
a behind the scenes look at what we do

exactly what your support has helped build

what an ever-changing community means for Frisco's only social services agency

the impact your support has on families during their time of greatest need
---
About the Campaign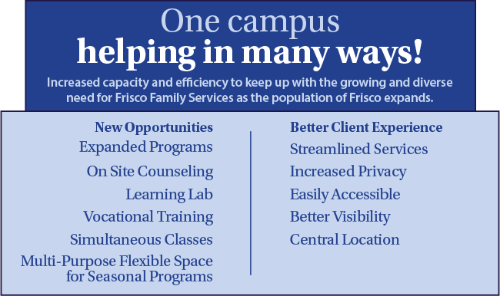 Frisco Family Services has seen great success since its beginning in 1994. However, our Frisco and Frisco ISD community has changed dramatically in the past 25 years. The population is more diverse, the senior population has grown, and the recent development boom has put a financial strain on many individuals and families in our community - both longtime residents and recent transplants. As the only non-profit social service agency providing emergency crisis assistance in our community, we have expanded our range of services to keep up with expanding needs.
Today, we are left with a challenge: the size of our operations no longer matches the size of our facilities, and this discrepancy hinders our ability to fulfill our mission. This new Client Services Building will enable us to increase capacity to keep up with increased demand for our services as our population grows.
---

A gift to our campaign, strengthens OUR ability to grow and continuously improve our level of programs and services, while providing you the opportunity to have a long-lasting impact in your very own community.
Help us realize our dream for a new Client Services building. This page contains a comprehensive list of options including those that will allow you the unique opportunity to be permanently recognized at our new location. Your gift may be designated to show individual participation, to honor a relative or friend, or to reflect the participation of your business or organization.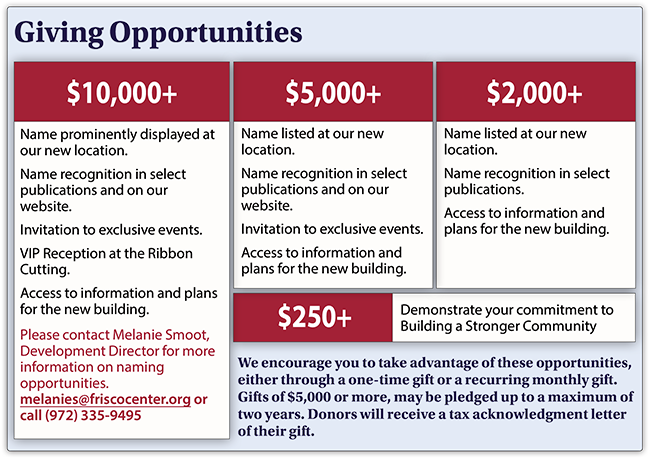 ---
A challenge gift of $100,000 has been provided by
the Boxer Family Foundation.
$50,000 has already been donated toward matching the challenge.
Now we need your help raising the rest!

---
Keep checking back as progress continues!
Sign up to receive the latest and greatest e-news on our Capital Campaign progress!
Click here to download our Capital Campaign Press Release.