Volunteer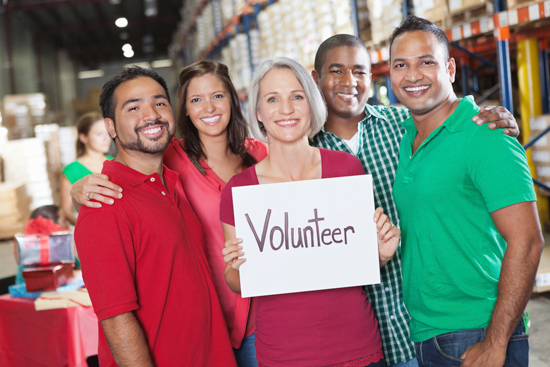 Volunteers are critical to the success of Frisco Family Services. The agency offers a wide variety of opportunities and invaluable experiences for volunteers.
We welcome groups and individuals to join us as we work together to make a genuine difference in the lives of the people we serve! To schedule group volunteer activities, please email volunteer@friscocenter.org. 
As a volunteer for Frisco Family Services, you can choose how often, and in what capacity you would like to work with the agency. Below you will find a list of volunteer opportunities currently available.
Volunteer age requirements: You must be 11 - 15 years old to volunteer with an adult who has completed orientation class, and 16 - 17 years old to volunteer independently with a completed orientation and parental permission (a signed parental consent form).  Children ages 4 - 10 years old and accompanied by an adult can participate in our Little Hands opportunities created just for them.
(If you are needing to complete court-appointed hours, please click here.)
Volunteer Opportunities Available
Resale Store - sorting and processing donations for the sales floor and assisting Resale staff

Food Pantry - accepting donations, sorting donated items, stocking pantry shelves and assisting clients

Agency Office - providing staff and client support by performing light office work

Little Hands - created especially for our youngest volunteers - Weekend bags, Toys for Resale, Birthday Theme boxes, Community Garden, Summer Lemonade Stands, Holiday Stocking Stuffing

Seasonal Events - seasonal work during our Thanksgiving, Holiday, and Back to School programs

Fundraising - set-up and organization of Annual Gala and Golf Tournament

Corporate & Group Team Building - at our Food Pantry, Resale store, Community Garden, Seasonal Events, Summer Lunch Program or conduct a donation drive at your location.
---
Ready to make a difference in your community, but not sure if this opportunity is right for you?
Join us for a volunteer orientation to learn more about Frisco Family Services and the volunteer opportunities available. More details here.
---
Click here to read stories from some of our volunteers. 
All of our volunteers make a huge impact...
THANK YOU for gifting us with your time, talents and resources!