Exclusive GalaONE 2023 Raffle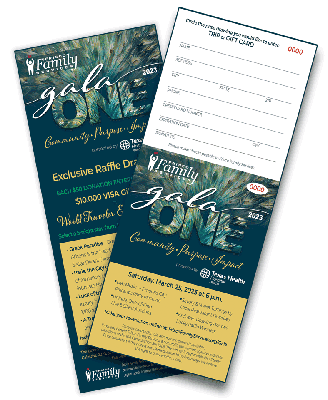 Two lucky raffle tickets will be randomly drawn and announced at the conclusion of GalaONE, Saturday, March 25, 2023, and need not be present to win. Each $50 donation equals one raffle entry into the drawing of your choice. 
$10,000 VISA Gift Card
This prepaid Visa® Gift Card can be used for purchases worldwide.
World Traveler Excursion for Two
Select a 5-night stay from ONE of the 4 World-Class destinations below. The trip winner will also receive a $3,000 Visa® Gift Card for travel and excursion expenses.
NOTE: The Buy 2 GET 1 FREE offer has been extended through midnight, Sun. Feb. 5th.
Frisco Family Services GalaONE 2023
NOTE: Prizes are non-transferable, and no cash option is available. The winner is responsible for all taxes. Proceeds from the raffle will benefit Frisco Family Services, a nonprofit agency, tax-exempt under the IRS Code Section 501 (c)(3). Once contacted, we reserve the right to draw another ticket if the prize is not claimed within 10 business days.