OUR MISSION
Frisco Family Services is a 501(c)(3) non-profit tax-deductible organization that helps members of our Frisco and Frisco ISD communities who are facing hunger, homelessness and other urgent needs improve their quality of life and achieve self-sufficiency.
OUR CORE VALUES
Integrity: We employ the highest ethical standards, delivering on our mission, with honesty and fairness in every action.
Forward Thinking: We operate with a sense of possibility, perseverance and responsibility, meeting the needs of our communities today, while proactively anticipating and planning the needs of tomorrow.
Excellence: We commit to excellence in all we do.
Servant Leadership: We lead by passionately serving the needs of members of our communities in a compassionate and respectful way.
Diversity: We embrace diversity as fundamental to our culture.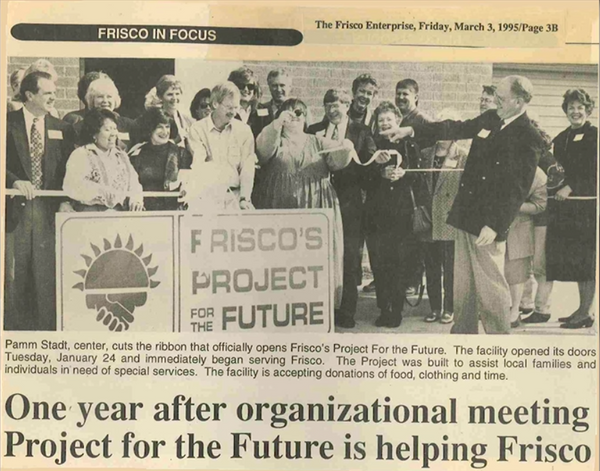 Our Humble Beginnings
History:
Frisco Family Services has been a vital part of our community since February 18, 1994, when a group of concerned Frisco residents saw a need in their own backyards. We have continued to grow with the help of our donors and volunteers who make our mission possible. Through the years, our purpose has remained the same: help our neighbors in their time of crisis and need.