2020-2021 Impact Report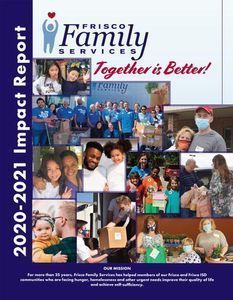 Together, during the past fiscal year, we were able to provide almost $1.6 million in program support, distributed more than 28,600 meals during the FFS Summer Lunch Program and 582,000 meals through the Frisco Family Services Market. Together, we met the urgent, essential needs of more than 3,300 individuals right here in our local community.
Your gift to those we serve is an investment in our community by providing our neighbors with the support, resources, tools, and confidence necessary to keep their families strong. We thank you for your continued support. Together, we changed lives. Together is Better!
► Click here to download the 2020-2021 Impact Report or here to view the 2020-2021 Donor List.
---
Archived Reports