Volunteer Stories
All of our volunteers make a huge impact...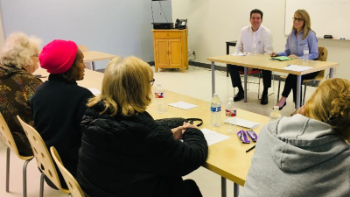 Meet Kelly - Assistant Vice President and Community Engagement Officer at Independent Bank. Kelly and a fellow volunteer, Mark facilitated a CHAMPS class together, focused on Financial Empowerment. The goal at Frisco Family Services is to provide tools that enable our clients to achieve or maintain self-sufficiency. Our CHAMPS (Challenging Adult Minds for Personal Success) classes, facilitated by working professionals, are a big part of helping them reach that goal.
Five women from all different backgrounds attended this class. Kelly and Mark came into Frisco Family Services to teach a class about budgeting and credit, and along the way ended up learning the impact that serving others can have.
"It was an eye-opening experience to meet these ladies and hear a bit about their life stories," said Kelly. "I know the importance of empowerment when it comes to finances, but meeting those beautiful women yesterday drove home the reality of educating myself, my daughters and all women on basic financial matters. I think Mark would agree, our goal was to share some practical financial tools; but we quickly realized, just being present with these ladies and hearing their individual concerns was as important as having them learn new skills. Each of these individuals had a unique and powerful story; and as always happens when serving others, I gained much more than I gave."
---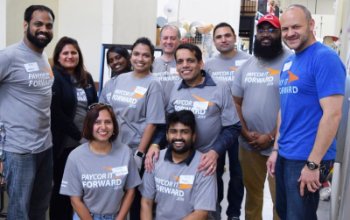 Close to 100 local Paycor employees took part in their 'Paycor it Forward' event which provides their team with the opportunity to give back to a cause they believe in. An employee at their Frisco office, Nate led his team to Frisco Family Services.
He was introduced to Frisco Family Services at a local networking event, and immediately felt a strong connection to our mission. Frisco is home to Nate and his family, and he understands the importance of being part of a community that takes care of one another, having been in a situation where he was close to reaching out for assistance himself. "Our whole lives are in Frisco, and I really like that a place like this exists, as well as the holistic type of approach it provides," said Nate.
Strengthening their bond as a team was something they wanted to accomplish while they were volunteering, and Frisco Resale was a great place for their entire group to come and invest in their community together. They even joked that talking about work was prohibited.
"Our group had a great experience at Frisco Resale, and we felt good that the work we were doing would help fund such a good cause." 
---
Meet Caryn
"Volunteering with Frisco Family Services made me feel like I was part of something bigger, like we were all working towards having a huge impact that can't happen if you attempt it on your own," said Caryn. "Knowing you're part of a group that is so passionate about their community and is doing such amazing things, makes you feel connected in a meaningful way in the community."
Caryn is a volunteer who wanted to make a unique impact on her community... and she did! Along with her serve team, Impact Frisco, a special event was organized for those assisted by Frisco Family Services that are part of our community's growing senior population.
Caryn and her team wanted to help others in a way that focused on interacting with people and building relationships with them. The event took place this past February, where more than 30 of our senior clients joined together for an exciting day of food, bingo, giveaways and conversation. The event went so well that Frisco Family Services is already planning the next one, and is in the process of adding it to the list of the programs regularly provided to our seniors.
"It was really special to be part of the first senior luncheon and build a foundation to grow on in the future. I hope to see familiar faces become people with stories we know personally and are able to be an encouragement during their struggles."